Everything Is Broken
A journalist's coverage of the May 2008 tropical cyclone that killed more than 100,000 Burmese offers the best available picture of contemporary life in Burma.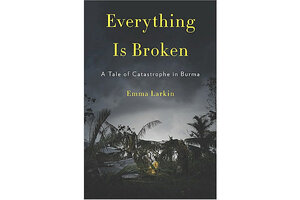 For those who want to know what it's like to be a Burmese inside today's Burma (Myanmar), Emma Larkin's book, Everything Is Broken, provides the fullest picture currently available.
Larkin writes with unequalled depth about the tropical cyclone of May 2008 that left a toll of more than 100,000 dead.
But her book is about much more than the devastation caused by cyclone Nargis to Burma's rice-and-fish-rich Irrawaddy Delta. By returning time and again to Burma for nearly 15 years, Larkin has been able to provide an intimate picture of how today's Burmese cope with life under a military dictatorship.
And she even manages to shed new light on the psychology, superstitions, and internal maneuvers of Burma's secretive ruling Army generals.
Despite near-total censorship imposed by the junta, those who have followed developments in Burma over the years know a great deal about the country's distressing poverty, relentless repression, and, of course, the travails of opposition leader Aung San Suu Kyi, who has spent 15 of the past 21 years under house arrest in Rangoon.
What they might have missed are the heroic struggles carried on by ordinary Burmese, who maintain their dignity even as they fight merely to survive. Larkin captures this beautifully through her descriptions of individuals at all levels of Burmese society who volunteered to provide the basics – food, water, medicine, and shelter – to their countrymen in the cyclone-devastated delta.
---