Zoo Story: Life in the Garden of Captives
Journalist Thomas French takes a darkly humorous look at humans' paradoxical drive to tame wild things.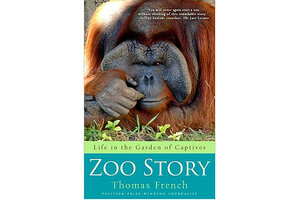 Just ask Siegfried and Roy: When a tiger nearly severs its trainer's jugular vein, it's Nature 1, Man 0. But these vaudevillians – and Ringling Bros., and Walt Disney's Animal Kingdom, and every zoo in the world – earn their livings sustaining the illusion (in Roy's case, with varying success) that wild animals are friendly, safe, and fun. After all, any fan of "The Lion King" will attest that the hit single "Circle of Life" mightn't be so catchy if Elton John sang about the violent mating, vicious hunting, and senseless murder that fuel the life cycle of an actual lion.
Pulitzer Prize winner Thomas French's Zoo Story, a barbed investigation of financial malfeasance at Tampa's Lowry Park Zoo, has great fun with humans' paradoxical desire to tame wild things. "[Z]oos shake people into recognizing the manifold possibilities of existence," French writes, "what it's like to walk across the Earth, or swim in its oceans, or fly above its forests – even though most of the animals on display will never have the chance to do any of those things again." For French, a zoo is the ultimate ecological non sequitur, a "garden of captives" established in the name of conservation that removes rare species like the golden lion tamarin and the Panamanian golden frog from natural habitats ruined by human incursion and no longer able support them anyway. "Against all logic, some staff members still wished sometimes there was some way they could let the animals go," French writes. "For many of the species at Lowry Park, very little of the wild remained."
---
Follow Stories Like This
Get the Monitor stories you care about delivered to your inbox.