The Cookbook Collector
Allegra Goodman's digital-age romance mixes a traditional story line with some intellectual oomph.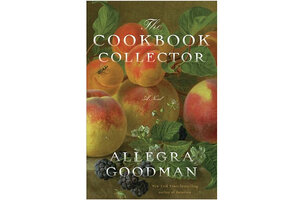 You've probably heard this story before: Responsible older sister and flighty, passionate younger sister search for love and fulfillment.
In fact, National Book Award finalist Allegra Goodman has called her new novel, The Cookbook Collector, a " 'Sense and Sensibility' for the digital age."
Now, one could argue that comparing your own work to Jane Austen's is like waving a red petticoat in front of a Janeite. But frankly, those estimable souls are probably still too green around the gills from "Sense and Sensibility and Sea Monsters" to object strongly.
Goodman is an intelligent observer who specializes in social comedies. Her settings have ranged from Orthodox Jewish communities ("Kaaterskill Falls") to cancer research labs ("Intuition"). Here, she re-creates the heady days of the late 1990s, when bestsellers had names like "Dow 36,000" rather than "The New Frugality," and it seemed as if every other 20-something was dropping out of college to have venture capital flung at them by double-handfuls.
Like the Dashwoods, Emily and Jessamine Bach have lost a parent – in this case, their mother. Their dad has a new family, and parental interaction is limited to tense visits at Thanksgiving. ("It's the worst of both worlds," said Emily. "Guilt without home cooking.")
---