Let Our Fame Be Great
Journalist Oliver Bullough delivers a detailed, moving history of the too often overlooked people of the Caucasus.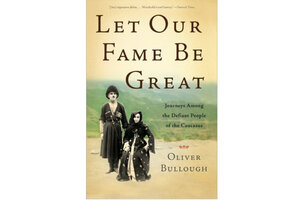 Perhaps the best way to begin is to be honest. What if we just admit we don't know much about the Caucasus, that we're confused by the term "Caucasian," that we're not sure who those defiant people are and why we should admire their long resistance to Russian invasion? If that's our first step, then the second should be to pick a copy of Let Our Fame Be Great, a most compelling history of the region by British journalist Oliver Bullough.
Bullough begins by explaining that this region, spanning the Black Sea and the Caspian Sea, was, for more than a thousand years, like an inland island, little subject to outside influences.
"Dagestan was not considered entirely Muslim until the late sixteenth century," writes Bullough. "Chechnya was also late to Islam, and the last Chechens probably did not convert until the late eighteenth century. Some Ingush were still pagan until the 1860s."
It even took bearish Russia until the late 18th century to break through the geographical obstacles and start attempting the takeover of the Caucasus piece by piece, meeting plenty of defiance from the poor, mostly illiterate, independent peoples – who, on the whole, grouped themselves within each people by family units, and understood nothing of what states or nations meant: "The long absence ... of a foreign ruler or a foreign religion allowed the mountain customs to continue largely unchanged into the modern age. Communities were governed by councils of elders, and land was held in common by each village."
---