Classic review: The Corrections
In Jonathan Franzen's dark family comedy, everybody wants to be somebody else, somewhere else.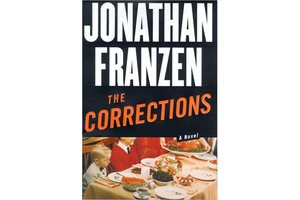 [This review from the Monitor's archives originally ran on Sept. 13, 2001.] The Corrections represents a giant leap for Jonathan Franzen – not only beyond his previous two novels, but beyond just about anybody else's.
This omnivorous comedy about a Midwestern family dealing with chronic dysfunctions radiates the kind of dark insight that the priests of serious fiction worship. (Last week, The New York Times ran three adoring features about the book, and The New Yorker published an essay by Franzen about his father's illness – the inspiration for this story. If you haven't already heard how great the novel is, you're hopelessly out of the loop.)
Under this torrent of hype, I tried to dislike "The Corrections," but it's no use. The book is wildly brilliant, funny, and wise, a rich feast of cultural analysis. Though it runs to almost 600 pages, I'm stunned by how much Franzen manages to cover and how compelling the story remains throughout.
The Lamberts are a Norman Rockwell portrait in acidic hues. The retired patriarch, Alfred, spent his life working honorably and stoically for the Midland Pacific railroad, but in the 21st century his values retain the currency of those powerful trains now sold for scrap or sitting in transportation museums. The parts of his mind not already ravaged by the new, consumer culture are wasted by Parkinson's disease, described here with great empathy and sometimes gruesome accuracy.
As his grip on the family falters, his wife, Enid, begins to exert more power through her traditional avenues of control: food, holiday guilt, and tyrannical optimism. Her current campaign is to hold one last Christmas all together at their house.
---