3 noteworthy summer mysteries
These summer thrillers offer adrenaline-fueled trips to Saudi Arabia,Dublin, and the ski slopes.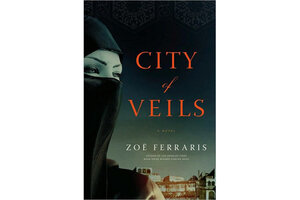 From a prizewinning literary novelist to a bestselling author with a brand-new hit TV show, this summer offers three noteworthy new mysteries intricate enough to keep amateur sleuths glued to their armchairs, the better to keep their gumshoes from melting in the heat. (To help cool you off, one of them even takes place during a snowstorm.)
City of Veils, by Zoë Ferraris, (Little, Brown) $24.99
Katya Hijazi and Nayir Sharqi have logistical difficulties Nick and Nora never imagined. Forget solving crimes: It's illegal for them to be seen in public together. As a result, in City of Veils, author Zoë Ferraris has to do some rather swift maneuvering to reunite the duo who made her debut novel, "Finding Nouf," so memorable.
Katya is now pretending to be married to keep her job in forensics, while desert guide Nayir is pining for Katya and trying to reconcile his feelings with his formerly strict faith.
Then a woman's beaten body is found on a beach in Jeddah, and Katya asks Nayir to help her research the case on the sly. It turns out the young woman was a documentary filmmaker whose work on sexual hypocrisy pushed plenty of buttons, although it may have been her work with a controversial Koranic scholar that got her killed. Meanwhile, an American woman searches for her husband, a security contractor who went missing the night he picked her up from the airport, and Katya's boss, a police detective, discovers that he might not be the enlightened feminist he thought. (Ferraris stumbles here: Detective Osama Ibrahim's soul-searching could have been quite interesting, but his home life gets shortchanged.)
Where Ferraris, who lived in Saudi Arabia in the 1990s, continues to shine is in her depiction of the ways in which women's lives are circumscribed in that country – take a scene at an airport room where lone women are stored like unclaimed umbrellas – and the risks her characters run in circumventing the rules.
---