Classic review: The Discomfort Zone
Jonathan Franzen probes his past and finds an abundance of discomfort to explore.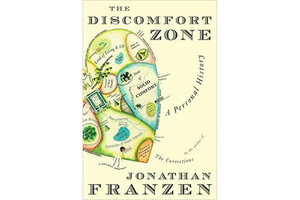 [This review from the Monitor's archives originally ran on Sept. 5, 2006.] Reading Jonathan Franzen always reminds me of the day in sixth-grade math when Miss Worrell explained binary systems to us: twofold worlds alternating between on and off.
At least, that's how I experienced "The Corrections," Franzen's award-winning novel of family life gone awry. There are the parts that are sidesplittingly funny and there are the parts that serve up jolts of cringe-inducing pain. And there are plenty of places where the reader is bounced mid-sentence from one sensation to the other.
Franzen's new book, The Discomfort Zone: A Personal History, a collection of essays about his life, offers the same kind of whipsaw reading experience. It's hilarious and it's painful. It's sharply insightful and it's also frustratingly obtuse.
No human being should have to experience the self-loathing that Franzen appears to feel for his youthful self. But then again neither should anyone be so exhaustingly and blindly self-involved. And yet Franzen is, and somehow manages to convey that to us in equal measures of humor and painful acuity.
From adolescent angst to marital calamity
The six essays (at least half of which were previously published in The New Yorker magazine) begin with Franzen as an adult arriving in suburban St. Louis to sell his mother's house.
For readers of "The Corrections" this is familiar territory. The house, in which "each windowsill and each tabletop was an eddy in which inexpensively framed photographs had accumulated" and in the kitchen of which a brisket has lain in the deep freeze for nine years, is immediately recognizable – as is the psychic pain that surrounds it. ("Need I add that it didn't last?" Franzen writes of the brief happiness he experienced there as a child.)
---