Minefields of the Heart
What a mother experiences while her son fights in Iraq.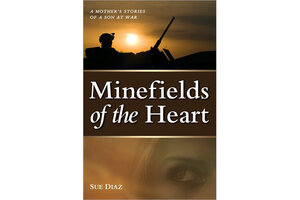 Several visceral, difficult-to-forget books, like David Finkel's "The Good Soldiers" and Dexter Filkins' "The Forever War," have chronicled the daily bravery, fear, and pain of American troops in Iraq as they struggle with the enemy, the meaning of their mission, and the loneliness of being away from home. Few books, however, have examined the pain of those loved ones on the home front, the people who stay up late worrying about a soldier's well-being. Sue Diaz's absorbing and intimate memoir Minefields of the Heart (which grew from a series of essays that appeared in The Christian Science Monitor) looks at a mother's relationship with her soldier son (Roman) as he spends two deployments fighting in Iraq.
Award-winning journalist Diaz, at home in San Diego, reads and watches the news about Iraq every day, trying to understand what her son is going through. She realizes that he could be killed any second, and there's little she can do about it. She's compassionate enough to understand that this possibility of instantaneous loss extends to all families of soldiers: "A young private takes a bullet; back at home his father's heart bleeds. A soldier loses a leg; his wife struggles in the days that follow to simply keep putting one foot in front of the other. A sergeant's eardrum is perforated [something that happens to Roman]; his mother hears the explosion in her dreams, time and time again."
---
Follow Stories Like This
Get the Monitor stories you care about delivered to your inbox.