Freedom
Jonathan Franzen's latest is already the year's biggest novel.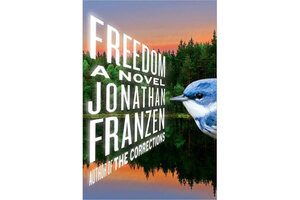 For a book that just came out Tuesday, Freedom has been an inescapable force this summer. Advance reviews have declared it the book of the century (even though we're only 10 years into it). Praise has ranged from Time magazine, who plastered author Jonathan Franzen on its cover with the headline "Great American Novelist," to The New York Times (The Book's So Nice, We Reviewed It Twice). President Obama even chose it as his beach reading on Martha's Vineyard.
The drumbeat of hype has been so relentless that it has already sparked a backlash, with bestselling authors Jodi Picoult and Jennifer Weiner – who feel they deserve a bit of the ink splashed on Franzen – arguing that the Times offers such accolades mostly to white males living in New York. Weiner's Twitter hashtag, Franzenfreude, is pretty funny, but the evidence in this case isn't really there. Oh sure, books that attract a large female audience are too often unfairly dismissed. But Franzen hasn't gotten a free pass from the Times. In fact, he reportedly called Pulitzer-winning Times reviewer Michiko Kakuatani "the stupidest woman in New York" when she had the nerve not to like his 2006 memoir, "The Discomfort Zone."
---
Follow Stories Like This
Get the Monitor stories you care about delivered to your inbox.