Three Stations
Smith's seventh Arkady Renko novel serves as a textual "film noir" glimpse of today's Russia.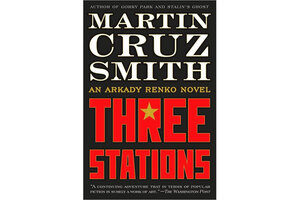 "Vigilance Keeps Us Free" is the motto gracing several framed certificates on the wall of Col. Leonid N. Malenkov's office at Moscow's Kazansky Station. One cannot help but sense the irony when Senior Investigator Arkady Renko, there to discuss the presumed murder of a young woman in the city's main rail hub, observes the words and wryly suggests, "Good, you can cooperate with me." In Renko's Putin-era Moscow, his plea has the resounding effect of a whisper in a hurricane.
Martin Cruz Smith's latest and arguably best novel, Three Stations, is a roller-coaster ride through the dark underbelly of present-day Russia, with a varied and cynical cast of billionaires, bureaucrats, street urchins, and thugs for whom day-to-day survival is the common objective. Smith's longtime protagonist, Renko, has for the past 30 years navigated the byzantine byways of the Soviet Union, Cuba, and now oligarchic Russia. The landscapes may change, but Renko is the one constant – an Everyman who, in stubborn contrast to the society in which he lives, retains a sense of morality and duty in his everyday investigations into the deaths of victims those around him would just as soon forget.
After all, as Colonel Malenkov observed, "Life is unfair; why should death be any different?"
---