Classic review: Whose Bible Is It?
The scriptures have power to both divide and conquer.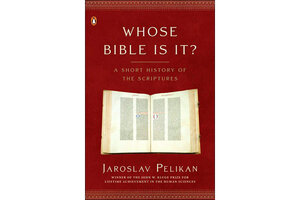 [This review from the Monitor's archives originally ran on May 31, 2005.] The news is brimming with religion. People of faith are taking strong stands on both sides of political issues. Jewish settlers are proclaiming a divine right to hold onto land. Evangelicals travel to tsunami-devastated corners of the world offering their faith as the answer for life's tribulations.
At the heart of these manifestations are people's encounters with Holy Scriptures - and their differing interpretations of what the sacred texts mean.
Over the millennia, both Jewish and Christian communities have been shaped and reshaped by translations and reinterpretations of biblical writings.
In Whose Bible Is It?, distinguished religious historian Jaroslav Pelikan of Yale University offers a masterly overview of this complex development of the Bible over the ages. From its beginnings in the spoken word and oral tradition, through the gathering of written books into canons, to the influence of changing interpretive methods, Pelikan weaves a tapestry of the power of the Word to mold religious communities, nations, and culture.
This engaging, concise, and highly readable work demonstrates that the most influential book in Western civilization has always held different meanings for different peoples. Yet it represents fundamentally a "testimony of faith in the action of God."
Research has brought into question the historical basis of some narratives, but the meaning of those stories, Pelikan says, continues to resonate with people of various cultures in deep and convincing ways. (While fewer Americans are now familiar with the Bible - surveys show an astonishing ignorance of basics - millions around the world are reading it in some 450 languages.)
---