Listen to This
From Radiohead to Brahms, New Yorker music critic Alex Ross writes gracefully and thoughtfully about music.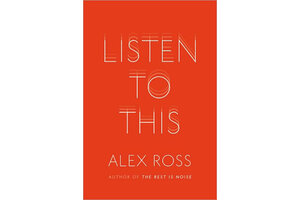 Can you name the music critic who can write as engagingly about Björk, the Icelandic rock singer, as he does about Brahms? You would be right if you answered, "Alex Ross." Readers who love Björk or Brahms will find much to enjoy in Ross's new book, Listen To This.
Alex Ross's previous book was "The Rest Is Noise," a history of, and a meditation on, the music of the 20th century. He compares the two books in this way:
"My last book unfolded on a big historical canvas, with political forces constantly threatening to overwhelm the solitary voice; this book is more intimate, more local, revisiting many times the abiding question of what music means to its creators and its listeners on the most elemental level. Above all, I want to know how a powerful personality can imprint itself on an inherently abstract medium – how a brief sequence of notes or chords can take on the recognizable quirks of a person close at hand."
Ross has been the music critic for The New Yorker for the past 14 years, and all but one chapter of "Listen To This" was previously published in that magazine. The exception is the essay entitled "Chacona, Lamento, Walking Blues." This details, in language that both the layman and the expert can appreciate, the history of the Renaissance chacona, "a sexily swirling dance that hypnotized all who heard it," which evolved most famously into Bach's complex and cerebral Ciaconna for unaccompanied violin. The other subject of the essay is the lamento, a chromatically descending figure in the bass line that portrays sadness and threads its way through the history of music, ultimately manifesting itself in the blues, the music of W.C. Handy and Duke Ellington, among others.
---