The Complete Peanuts 1977-1978
Snoopy and Woodstock – plus plenty of 1970s cultural trivia – make "The Complete Peanuts 1977-1978" a delight.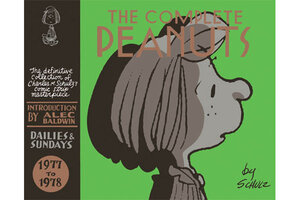 Are you up on your '70s trivia? There are plenty of topical references in the latest volume of the The Complete Peanuts 1977-1978 by Charles Schulz. These include converting to the metric system (what ever happened with that anyway?), jogging, Farrah Fawcett, Donny and Marie, Phyllis George, Billie Jean King, Cheryl Tiegs, and disco dancing.
While the 1970s were winding down, Schulz was bringing fresh hilarity to his beloved cast. Not only are our favorites all here, but he uses some of his newer cast members, even introducing a few more.
It's a nice visit with these characters we all know and who, despite – or perhaps because of – their imperfections, we love like old friends. Here's a peek at what they've been up to in 1977 and 1978:
Our favorite loser Charlie Brown has to go on the lam from the EPA after biting one of his nemeses, the kite-eating tree. He ends up in another town coaching a "little" baseball team.
Lucy Van Pelt is back to torment Charlie Brown and Schroeder.
Beethoven-loving Schroeder has to not only contend with the ranting Lucy but with little Woodstock as well, who fights with and gets tangled in the musical notes that float from Schroeder's piano as he plays.
Charlie Brown's sister Sally practices her penmanship, revealing the hidden personalities of the letters of the alphabet. She also has to present reports to her class. The funniest is her "Santa and his rain gear."
---