Classic review: The Only Game in Town
A sparkling, eclectic collection of sports profiles from the pages of the New Yorker.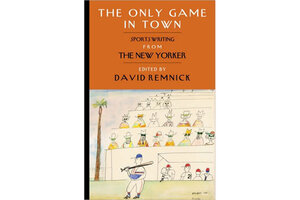 [This review from the Monitor's archives originally ran on July 9, 2010.] Any collection that begins with a Roger Angell baseball story has to be a good one. So it is with The Only Game in Town, an eclectic sports anthology whose pieces, drawn from the pages of The New Yorker magazine, cover everything from Shaquille O'Neal to swimming with sharks.
Angell leads off with an account of a Yale-St. John's college baseball game, an epic 1981 contest pitting future big-league all-star pitchers Ron Darling and Frank Viola against each other. The game was part of the NCAA regional playoffs to determine which teams advance to the College World Series.
The stakes amplified what would have been (please indulge the overused word) a classic in any event. Darling, whose future major-league career included a World Series title with the Mets in 1986, threw a record 11 no-hit innings before losing in the 12th inning. Viola, himself a future Cy Young Award winner and World Series champ as a Twins starting pitcher, outlasted Darling with a performance almost as dazzling, recording 11 shutout innings in the 1-0 win.
---