The Lost Peace
Historian Robert Dallek examines the beginnings of the cold war.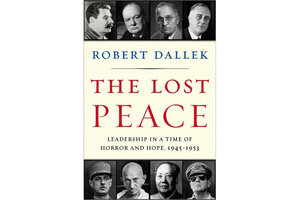 The "presidential historian," that expert on the American presidency who is ubiquitous on television screens and newspaper pages during elections, is a very recent phenomenon. But it seems to be implanted in the culture now, becoming a respected side gig for those writing popular American history. Of these presidential historians – a group that would also include Doris Kearns Goodwin, David McCullough, and Michael Beschloss – Robert Dallek probably is the best. He does the most original research, offers the most new insights into his subjects, and is the least likely to shower readers in nostalgia.
All of which makes The Lost Peace so disappointing. The book is not bad per se – it's just unoriginal and unnecessary. "The Lost Peace" is an international history of the cold war's beginnings, focusing on the maljudgments made by world leaders. As World War II closed, and the United States and the Soviet Union lost their common Nazi enemy, they turned on each other. By the time US President Harry Truman left office in 1953, the Allies were solidified as enemies, a status that lasted until Mikhail Gorbachev came to power in the Soviet Union. How a period so pregnant with possibilities descended into just another great power conflict, and how it could have been otherwise, is the focus of Dallek's mid-sized book. "[I]t is an attempt to revisit the end-of-war and immediate postwar events by asking why, in spite of the uncivilized acts of violence that had dominated international affairs, men and women all over the globe could still imagine that traditional power politics could assure their national safety and a wider peace," he writes.
---