The Hard Way Around
The life of Joshua Slocum – first man to sail solo around the world – makes for a rich seafaring yarn.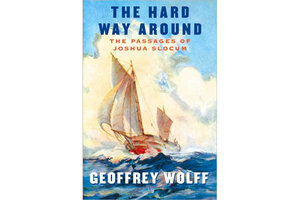 A cursory overview of Geoffrey Wolff's biographies – "Black Sun: The Brief Transit and Violent Eclipse of Harry Crosby," "The Art of Burning Bridges: A Life of John O'Hara," and "The Duke of Deception," about his unreliable father – reveals his predilection for writing about fascinating but difficult men. Joshua Slocum, the legendary sailor profiled in The Hard Way Around, fits right into Wolff's belligerent lineup.
Slocum is best remembered as the first person to circumnavigate the globe solo. He set sail from Massachusetts in 1895 on the Spray, an unusual, remodeled 37-foot sloop, and returned home three years, two months, two days, and 46,000 miles later. (His route was indirect and punctuated by long stopovers.) It was a feat that wouldn't be repeated for another 25 years.
As impressive as Wolff finds Slocum's nautical prowess, he is even more bowled over by his literary skills. Slocum documented his solo voyage in his third book, "Sailing Alone Around the World," published in 1900. "The Hard Way Around" is in large part a tribute to this book. Wolff remembers its profound impact when he first read it 50 years ago: "Having meant to read a sea adventure ... I stumbled on this run of language, bearing its load so easily, and the emotional burden it discharges so cunningly. Taking my breath away, it made me feel what I can only describe as love."
---
Follow Stories Like This
Get the Monitor stories you care about delivered to your inbox.