Decision Points
Bush's memoir details the decisions that shaped his life and presidency – but fails to open a window into his thinking.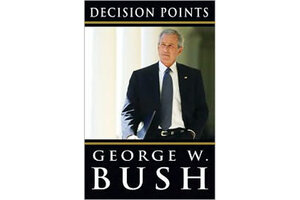 "George, get over it. Make up your mind, and move on."
Such curt replies are Barbara Bush's specialty. But she wasn't referring to a choice between paper and plastic. She was girding her son to decide whether he should run to be "the decider."
He got over it. He made up his mind to run for president. And now that he's moved on, he has put forward an unapologetic, forceful account of the toughest decisions he faced.
As history, Decision Points is a sweeping tour of the figures and forces that drove a pivotal decade. As a memoir, it is an uneven and mostly boring read, alternating moments of gratuitous candor with long sections of guarded prose. As a defense of a controversial presidency that a group of scholars has ranked as the fifth worst in history, it is a rousing closing argument that is sometimes persuasive but always tendentious.
"Decision Points" is by nature a contradictory enterprise.
"You can't possibly figure out the history of the Bush presidency – until I'm dead," President Bush once told the journalist Robert Draper. "I really do not feel comfortable in the role of analyzing myself." Yet the man who often expressed confidence that history would vindicate him centuries hence nonetheless felt compelled (by historians, fittingly) to start writing his memoir the day after he left office.
Just 24 hours to reflect on the lessons of his two terms? His mom would surely approve.
---