My Reading Life
One of America's most popular writers tells how the act of reading became his salvation.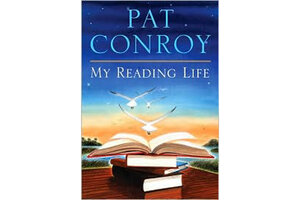 As library and grade school billboards often earnestly proclaim, reading can be educational, even fun.
But reading can also change your life, and maybe even save it.
That's the message of My Reading Life, Pat Conroy's account of how literature rescued him from a troubled youth, sustained him through periods of trial, and helped make him not only an avid reader, but a celebrated writer.
Conroy has written numerous books, but he's perhaps best known as the author of "The Great Santini," a searingly autobiographical novel about a son's coming of age at the hands of an abusive father.
Perhaps not surprisingly given Conroy's wounded childhood, his Marine pilot father appears in the very first paragraph of "My Reading Life" as Conroy recalls his migratory and often turbulent childhood as a military brat.
Displaced and often desolate, Conroy sought solace in the woods around Marine bases, bringing home "a series of captured animals, from snapping turtles to copperheads." Conroy's mother brought him books to identify his quarry, and he was hooked.
"Whatever prize I brought out of the woods, my mother could match with a book from the library," Conroy tells readers. "She read so many books that she was famous among the librarians in every town she entered. Since she did not attend college, she looked to librarians as her magic carpet into a serious intellectual life."
Although reading, like writing, is often regarded as a solitary act, "My Reading Life" reminds readers that books can also be a strong, bright hearth where communities form. Conroy's memoir is a frequently winning celebration of that fellowship, with tributes not only to his mother, but to others who stoked his passion for language.
---