Frank: The Voice
Biographer James Kaplan succeeds in capturing the fragile ego, contradictory impulses, and immense talent that defined Frank Sinatra.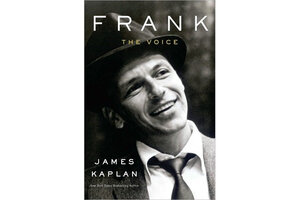 James Kaplan's look at the greatest singer of them all, Frank Sinatra, cannily follows the example of some recent celebrity autobiographies. Both Julie Andrews and Steve Martin realized that the journey to stardom is a lot more interesting than being (and staying) on top, so they end their memoirs just as their careers are taking off for good.
Kaplan knows that too, so his new book charts Sinatra's childhood days, those early breaks with Harry James and Tommy Dorsey, the path on to the movies and fame (and Ava), up until it all spiraled down and was seemingly lost forever.
Frank: The Voice ends with one of the most amazing comebacks in pop culture history. Sinatra finishes shooting his Oscar-winning role on "From Here To Eternity" and virtually walks off the set in Hawaii, jumps on a plane, and heads right into the Capitol studios to record his first song with arranger-producer Nelson Riddle.
---