Twelve Steps to a Compassionate Life
Religion writer Karen Armstrong promotes a 21st-century form of the 'compassionate discourse' of Socrates.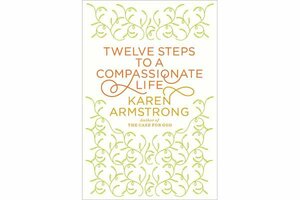 Karen Armstrong's latest book comes at just the right time: at the start of a new year when many people are pondering their lives and setting fresh priorities.
In Twelve Steps to a Compassionate Life, the British author of numerous acclaimed works on the world's religions takes on a new role. The great explainer has unapologetically become an activist, an advocate for a transformation of individual and collective behavior that she views as essential to saving a dangerously divided world.
While scientific and capitalistic societies encourage the selfish, competitive strain in human beings, she writes, history has demonstrated over millenniums that compassion is also natural to humanity. And compassion, she adds, not only improves relationships, but it can also usher us into a more enhanced, transcendent experience.
This small guide, a deliberate nod to 12-step programs, is chock full of practical ideas for examining one's life and modifying aims and behaviors. But Armstrong's goal is more ambitious than simply individual betterment.
"One of the chief tasks of our time must surely be to build a global community in which all peoples can live together in mutual respect," she says.
Indeed, her book is a companion to an Internet-based initiative that has already engaged thousands from around the world in creating a Charter for Compassion, and in undertaking a series of activities to raise the profile of compassion and restore it to a prominent place in daily lives. Armstrong initiated the charter idea in 2008 after winning the $100,000 TED prize (Technology, Entertainment, Design) from the nonprofit group of that name, which aims to spread the best ideas of the world's leading thinkers.
---