George Washington's First War: His Early Military Adventures
The father of our country was once a scrappy boy colonel.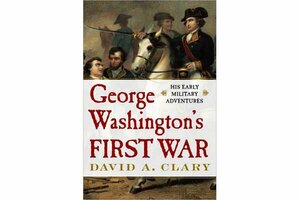 The nascent career of George Washington is nothing to wax sentimental about. The boy colonel of the Virginia militia learned his trade on the job, slogging through battles along the Colonial frontier against the French and Indian nations. His one minor victory was marred when an Indian ally murdered a wounded French officer who had surrendered and was under Washington's protection – an incident that would escalate the undeclared war over who controlled the Ohio territory.
Two years later, in 1756, these frontier skirmishes would merge into the Seven Years War, which was fought in North America and in Europe and involved nine nations – what some term the first example of a world war.
Such is the awe evoked by the "Father of our Country" that David A. Clary, author of George Washington's First War: His Early Military Adventures, feels compelled to remind the reader that his subject started out as a baby and was not born a great man. Clary, who has written 10 other books and is the former chief historian of the US Forest Service, has done his homework, as his footnoting attests, although at times the minutia overwhelms an otherwise engaging narrative.
---