My Father at 100: A Memoir
Ron Reagan offers an affectionate but light and padded portrait of his father, the 40th president of the United States.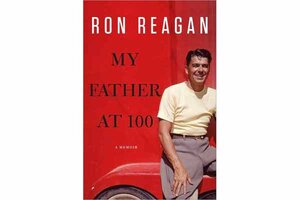 The world came to know him as the Great Communicator, but Ronald Reagan's skills evaporated as people got closer. He could be warm and friendly but remote, as if he was only reachable by long distance instead of a local call.
This portrayal of a disengaged Mr. Reagan is a familiar one, and it crops up once again in his second son's new memoir My Father at 100. Unfortunately, Ron Reagan has little to add in his own affectionate but light and padded portrait of the 40th president.
The memoir made the news within the last few days because Ron Reagan claims that his father showed signs of Alzheimer's disease while in the White House and during brain surgery shortly after leaving office in 1989. Associates of the ex-president quickly and convincingly debunked the idea that the operation – and an unlikely 22-year conspiracy of silence – ever happened, casting a shadow of doubt over the veracity of the entire memoir.
Then again, there's little left in the book that's likely to raise any more more hackles if it's proven to be untrue. This is far from a tell-all book and barely qualifies as a tell-some.
Instead of serving up inside information, Ron Reagan focuses heavily on his father's early life and ancestry. He endlessly speculates about Reagan family forebears and throws in tedious history lessons about events like the Irish Potato Famine. ("If you had to choose just one food on which to subsist, you could do much worse than the humble potato.")
---