Classic review: The Beatles
What can there possibly be that we don't already know about the Beatles? Read this book to find out.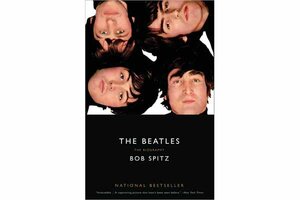 [This review from the Monitor's archives originally ran on Nov. 8, 2005.] I wouldn't be surprised if there are as many books about the Beatles as there are Starbucks, and most that I've read are as soothing as their lattes, sweetened and smoothed over the years by popular myth and faded memories. If you like your Beatles just as you remember them - cute and cuddly and dusted with magic - you might want to avoid this book.
Conversely, if you're looking for insights into the flesh-and-blood men behind the mop tops - warts, peccadilloes, drugs, and all - then The Beatles: The Biography by Bob Spitz is your definitive Beatles volume.
It's a meticulously researched, finely detailed biography, filled with intimate scenes from inside the boys' humble childhood homes, and affectionate re-creations of early, often awkward, encounters with one another in the playgrounds and schoolrooms of 1950s Liverpool.
Why did the Beatles break up? Yoko Ono says she's ready to explain
Among its indelible highlights are almost palpable eye-witness accounts of seminal performances, including their wild and woolly coming-of-age days playing marathon shows, night after night on Hamburg's notorious Reeperbahn. At three inches thick and almost 900 pages, it's by no means a quick read, but it's a cracking good one, especially for fans who think they already know the whole story.
---