Radio Shangri-La
A journalist in midlife crisis decamps to Bhutan to see if she can find contentment in the 'happiest place on earth.'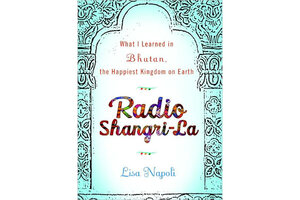 It's a story we think we've heard before: a woman, in the midst of a midlife crisis, flies across the globe for a chance of a lifetime that changes her life forever.
If Lisa Napoli's Radio Shangri-La seems all too familiar at the outset, the book ultimately proves it is much more than just a story of a midlife crisis. It's the chronicle of a country barreling toward change, and a woman's search for what happiness really means at any age.
At the outset of "Radio Shangri-La," we find longtime journalist Napoli in her early 40s, unhappy with her job in public radio, and without a family to call her own.
Stuck in a rut of regretful "what ifs?" Napoli quickly agrees to a six-week stay in Bhutan, an offer facilitated by a handsome man named Sebastian.
6 books to beat the winter blues
Known best to the Western world as "The Happiest Place on Earth," Bhutan is rarely visited by tourists. (The $200-per-day-per-person tourist tax may have something to do with it.) Napoli, however, is given a free pass through the country's doors to help run a fledgling radio station – coined Radio Kuzoo – created by Bhutan's prince.
Staffed by young adult Bhutanese, Radio Kuzoo casts a host of characters quite similar to America's brand of young adults. There's Ngawang, who dreams of America and having a baby, and who becomes a kind of little sister to Napoli; Pink, the DJ who moonlights at night clubs in the capital city, and whose marriage is falling apart; and Pema, who is a Burberry-loving, pop-culture maven. The station's staff becomes our view into the world of Bhutan's youth.
---