A Widow's Story
After 48 years of happy marriage, Joyce Carol Oates experiences widowhood.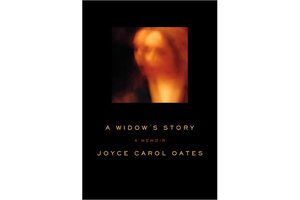 Never send a bereaved widow with no children a giant sympathy basket stuffed with gourmet olives, chocolate, popcorn, and mustard. Fifty-pound potted plants are also really bad ideas, since the intended recipient will be in no shape to lug heavy objects. If you take nothing else from A Widow's Story, National Book Award-winning writer Joyce Carol Oates's memoir of the months after her husband, editor Raymond Smith, died suddenly from a "secondary infection" acquired at a hospital, remember this.
"Of all deliveries I have come to most dread those from Harry & David those ubiquitous entrepreneurs of fateful occasions – Sympathy Gift Boxes adorned with Sympathy Ribbons hurtled in all directions across the continent. Why are people sending me these things? Do they imagine that grief will be assuaged by chocolate-covered truffles, pâté de foie gras, pepperoni sausages?" she writes of trying to deal with the mounds of trash and party food generated by the well-meaning.
But there are genuine kindnesses, as well. Another friend, knowing Oates won't be able to eat, gives her a dozen Odwalla blended juices, so she has something in the house she can get down. Others bring over homemade meals or cook for her at their own homes, and another drives her on errands.
---