My Korean Deli
Relying on a skillful mix of comedy and pathos, Ben Ryder Howe tells how he became an editor by day – and a New York City deli owner by night.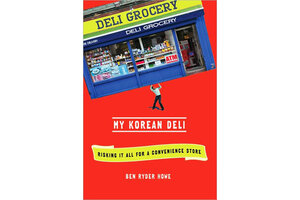 Starting a small business is an exhilarating and stressful endeavor, and Ben Ryder Howe takes us along for the bumpy ride in his witty memoir, My Korean Deli: Risking It All for a Convenience Store.
The book is a chronicle of Howe's adventures – and misadventures – in retail, and it begins with an improbable quest.
Howe, then an editor at The Paris Review, is looking to buy a New York City deli. His wife, an attorney, quits her job so she can run the deli, and the couple invests all their savings in the business venture.
All this is done in the spirit of atonement. Howe's wife Gab, the daughter of Korean immigrants, believes she owes her parents for their self-sacrifice, so she gives them the convenience store as a gift.
This guilt-ridden enterprise is ripe with comedic potential, and Howe capitalizes on it. His book is chock-full of jokes, mostly of the self-deprecating variety. The following passage is typical:
"Gab's family seems comfortable banging from decision to decision, but I'm more circumspect. I come from an academic family, and we like to think things through – then think about whether the process of thinking them through was as thorough as it could be, then write a book about it. (A book that takes twenty years.)"
The real fun begins when the deli opens. Howe continues to work at The Paris Review and the deli becomes his night job. Both enterprises flounder.
---