America Aflame: How the Civil War Created a Nation
On the 150th anniversary of the onset of the US Civil War, a lively, compelling account of its roots.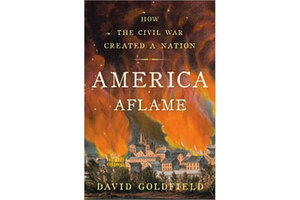 With some 50,000 books published on the American Civil War – and many more in the pipeline this year as 2011 marks the 150th anniversary of the war's beginning – you can be forgiven for asking, "Another?" But David Goldfield's America Aflame: How the Civil War Created a Nation is a riveting, comprehensive, and delightful piece of historical writing.
Goldfield, a professor at the University of North Carolina at Charlotte, has written or edited 16 books, and he is a wonderful storyteller with a facile, compact prose style that transforms complex historical ingredients into a savory meal. While not skimping on the details, he doesn't allow the reader to get lost in them, either. Did you know that in November 1864, President Lincoln attended the theater in Washington and was so taken with the performance of an actor that he invited the thespian to the White House? John Wilkes Booth demurred.
Another telling factoid: After the Civil War, the organization of Union veterans barred from membership all Irish-Americans. Such un-American attitudes didn't bode well for the postwar fate of African-Americans.
Indeed, Goldfield makes the argument that many Americans of that era were antagonistic toward other groups whom they viewed as a menace to the nation's progress. There were the Mexicans, defeated in 1848 by a bevy of US generals who would square off against one another 13 years later. (When Grant and Lee met at Appomattox in 1865, they reminisced about their Mexican War service before getting down to brass tacks.)
---
Follow Stories Like This
Get the Monitor stories you care about delivered to your inbox.