Eisenhower 1956
Current headlines about Egypt make this account of Eisenhower's handling of the 1965 Suez Canal crisis particularly compelling.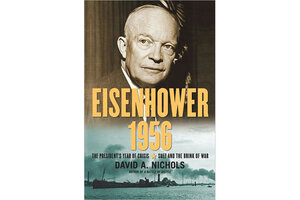 Reading Eisenhower 1956 last month while Egypt shed Mubarak made David A. Nichols' examination of Dwight D. Eisenhower's tumultuous reelection year specially absorbing. While this scrupulously reported book focuses on 12 months during which the popular Republican fought strenuous battles both political and personal, it also illuminates today's Middle East, helping to explain why relations between Egypt and its neighbors, particularly Israel, are so volatile.
Nichols' revisionist work presents an Eisenhower more complex, pacifist, and deliberate than the man portrayed in the print- and radio-dominated media of his day. This tightly written, chronological account covers a heart attack and, later, a severe intestinal illness that threatened Ike's reelection; betrayal by Britain and France, his staunchest allies in World War II; Israeli belligerence spearheaded by David Ben-Gurion that eerily presages Benjamin Netanyahu's contemporary approach; the mixed legacy of sharp-tongued Secretary of State John Foster Dulles and the largely incompetent record of his brother Allen, director of the Central Intelligence Agency; the rise of Arab nationalism as embodied in Egyptian President Gamal Abdel Nasser; and the West's continuing dependence on Middle Eastern oil transported through the Suez Canal, a flashpoint for decades.
---