Crazy U: One Dad's Crash Course on Getting His Kid into College
A father rides out his son's college admissions process.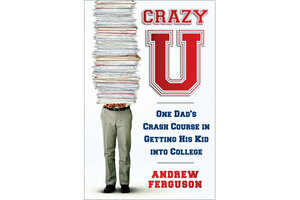 I shouldn't admit this, but the first thing I did upon receiving Crazy U: One Dad's Crash Course on Getting His Kid into College was to flip to the back to see which college his kid gets into.
Why did I care? Because having just gone through the same absurd process with my oldest child, I was not willing to listen to some guy wax poetic on how – "crazy" though it was – his bionic child clambered to the top and is now happily overachieving at, say, Harvard. And that all it cost was a few grand for SAT prep, private tutors, hired essay writers – things you, dear reader, can buy, too!
Yuck.
Fortunately, Ferguson is no such fool, and this delightful memoir had me laughing from the first page. It's an honest account of a devoted dad who finds himself torn between wanting to help his son win the admissions game and not wanting to play by the contradictory rules forced upon them. It's an unflinching look at the craziness of college admissions, the outrageous price tags of higher education, and, finally, how wonderful it is to watch our teenagers step into that new unknown that begins the rest of their life. (And ends our financial security as we know it.)
Ferguson, a respected journalist with Bloomberg News Service in Washington, D.C., begins by admitting the troubles he is about to detail are those of an already privileged family. At least his son has involved parents, safe schools, and is all but guaranteed college admission somewhere. Students in struggling inner-city D.C. schools may be only miles away as the crow flies, but light years away in opportunities available. So we leap over the
inequality elephant in the room and move on.
---