The Pale King
David Foster Wallace's posthumous novel, focused on the IRS, offers us the chance "to look once more inside that beautiful mind."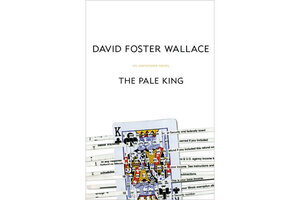 In David Foster Wallace's The Pale King, in a mock documentary, a tax examiner identified only by his ID number tells the viewer about his idea for a play, in which a "wiggler" is poring over 1040s: "The setting is very bare and minimalistic – there's nothing to look at except this wiggler, who doesn't move except every so often turning a page or making a note on his pad." The audience, he says, will grow restless and bored. "Then, once the audience have all left, the real action of the play can start.... Except I could never decide on the action, if there was any."
A wiggler is a rote examiner who studies tax returns to determine which are worthy of an audit, Wallace tells us in his posthumous novel scheduled for release on tax day.
At the Regional Examination Center (REC) in Peoria, Illinois, in May 1985, a fictional Wallace joins his fellow GS-9 IRS recruits for an intake training session, where he learns from the veterans that the work will require periodic flexing, visualizing, and a necessary bearing down.
Reading "The Pale King" requires precisely this kind of close examination – a sort of literary audit, but a worthy one at that.
Wallace worked on this novel the last 11 years of his life, until his untimely death in 2008, when he took his life. Author of the novels "Infinite Jest," "Broom of the System," and short story and essay collections, Wallace left behind hundreds of pages and notes for "The Pale King," which editors spent two years piecing together. Without an outline, "Infinite Jest" editor Michael Pietsch crafted the storyline, such as it is, based on his experience working with Wallace, drawing together fully revised and rough-draft chapters, handwritten in Wallace's tiny writing.
---