Scribble, Scribble, Scribble: Writing on Politics, Ice Cream, Churchill, and My Mother
This uneven collection of essays highlights Schama's charm but tries to cover too much ground.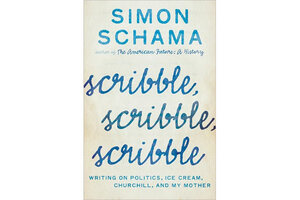 British historian Simon Schama is not afraid to leave the Ivory Tower. A jet-setter who has starred in documentaries across the globe, Schama is famed for popularizing history and art through award-winning, educational films. Television programs such as his "History of Britain" series on BBC have made Schama's scholarship accessible to readers outside the academy – including me.
I first encountered Schama's films in a high school classroom, and I have been a fan ever since. Few historians – before or since – have been able to make me feel so invested in the drama of the past. Given this experience, I eagerly picked up Schama's latest book Scribble, Scribble, Scribble: Writing on Politics, Ice Cream, Churchill, and My Mother.
What I discovered was a diamond in the rough – an anthology which included both striking and dull essays, but which could have dazzled readers if only Schama had focused on what he does best: historical analysis, character sketches, and personal essays.
9 books Bill Gates thinks you should read
Schama excels at those forms of writing partly because of his uncommon psychological insight. He is masterful at explaining how people tick, and this is true whether he is describing himself or others. His shining moment in the anthology is the essay, "Rembrandt's Ghost," in which he discusses Picasso's admiration of Rembrandt and shows how these two artists, despite their very different aesthetics, had kindred spirits and similar motivations for their work. Another standout is "Rescuing Churchill," in which Schama eloquently defends Churchill from modern critics, as in this passage:
---
Follow Stories Like This
Get the Monitor stories you care about delivered to your inbox.