Okay for Now
What's a boy to do when his family moves to a 'dump'?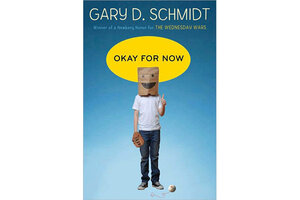 Doug Swieteck first showed up in Gary D. Schmidt's 2007 Newbery Honor-winning novel "The Wednesday Wars." Although the hilariously named Holling Hoodhood starred in that novel, his friend Doug – and the entire, dysfunctional Swieteck family – have now gone on to bring life to companion novel Okay for Now. Like "The Wednesday Wars," "Okay for Now" is set in the late 1960s and aimed at middle school-age readers.
But "Okay for Now" involves a shift of scene away from the Long Island setting so richly portrayed in "The Wednesday Wars." It's now the summer of 1968, and the promise of a better job for Doug's uncompromising – well, to put it bluntly, downright mean – father is taking the Swieteck family away from Long Island to upstate Marysville, N.Y., and the Ballard Paper Mill.
6 best children's books, as voted on by kids
As an eighth-grader, Doug is not happy about the family's move. He detests their new house – which he refers to as "The Dump" – and his beloved Yankees aren't even playing on the boring neighbor's transistor radio in this boring town. Meanwhile, his mother is worried that she'll lose the connection with Doug's oldest brother who's off fighting in a Vietnam delta somewhere. And the brother Doug shares his tiny room with has always been a troublemaker.
Yes, Doug hates everything about Marysville.
Then he discovers the town library and its remarkable collection of John J. Audubon plates from "Birds of America." He meets someone who believes Doug has artistic talent, and he actually plays horseshoes with an unlikely supporter – his father's boss, the factory owner.
---