The Reading Promise
A father reads out loud to his daughter – 3,218 nights in a row.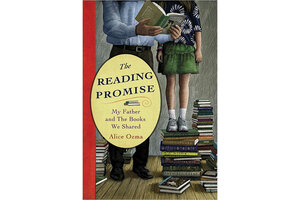 A coworker was trying to explain to me just how pampered her nephew was.
"His mother read him Harry Potter!" she finally came up with as the sina qua non of indulgence. "Not just picture books: Harry Potter."
The conversation ended shortly after I explained that I was currently reading "Goblet of Fire" to my then-8-year-old.
4 great books for middle-grade readers
Based on this criteria, Kristen Brozina must be the most spoiled child in existence. Her father read to her every night from the time she was 9 until the day she went away to college. "The Streak," as they called it, lasted 3,218 nights. Originally, they were going for 100 nights, as Kristen – who now uses her middle names, Alice Ozma – explains in her memoir, The Reading Promise. Actually, her dad, a children's librarian, was trying to stave off what he called "The Curse of 'Dear Mr. Henshaw.' " He had been in the middle of reading the Newbery Award winner to her older sister, Kathy, when Kathy informed him she could take it from there.
---