Lives and Letters
This essay collection by former New Yorker editor Robert Gottlieb pairs insights on art with a taste for scandal.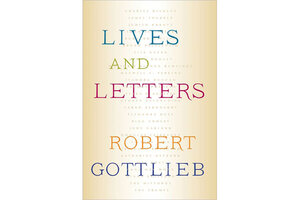 By Brooke Allen for The Barnes & Noble Review
Back in the late 1980s, during Robert Gottlieb's tenure as editor of The New Yorker, I remember that there appeared a magazine spread on Gottlieb's museum-quality collection of – of all things – plastic purses. (He subsequently produced a lavish coffee-table book on the subject.) Now here, I thought, was a man of truly broad interests.
Twenty years later I find myself confirmed in this judgment, for Gottlieb's new collection of essays and reviews, Lives and Letters, testifies to the catholic nature of his tastes: In its pages we are treated to a plethora of informed and opinionated discussions on everything and everyone from ballet impresario Serge Diaghilev to wife-slayer Scott Peterson. It's the kind of book that ideally finds its way to the bedside table in the guest room, for it seems to contain at least one or two items that will appeal to any reader's inclinations.
---