Daniel Stein, Interpreter
Russian writer Ludmila Ulitskaya creates a novel from the real-life story of a Holocaust survivor who became a monk.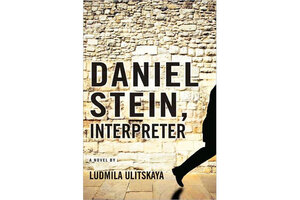 Donna Rifkind, for The Barnes & Noble Review
American readers in search of current literary views of Russia can find them in a sprinkling of new translations by edgy Moscow-based virtuosos such as Vladimir Sorokin and Victor Pelevin. They can find Russian sensibility once removed in the books of talented young authors who emigrated years ago and now write in English: Gary Shteyngart, David Bezmozgis, Lara Vapnyar, Olga Grushin. Or they can acquaint themselves with an internationally acclaimed writer who ought to be much better known here: Ludmila Ulitskaya.
An award-winning Russian novelist whose 14 works of fiction have been translated into many languages, Ulitskaya has until now only published four books in English; her most recognized title is likely the Manhattan-set novel "The Funeral Party," a nominee for the 2009 Man Booker Prize. Daniel Stein, Interpreter was published five years ago in Russia and is now available in English through a marvelous translation by Arch Tait. With its multilingual title character who seeks to use his translating gifts to reconcile and unify as well as to communicate, it might be the perfect introduction to Ulitskaya's big talent.
---