Man With a Pan
Stories from dads who cook, by fathers from Mario Batali to Stephen King.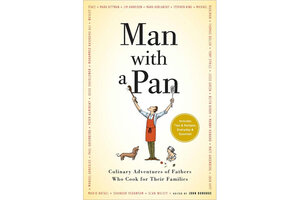 Some men take up cooking when takeout isn't available or restaurants bust their budgets. Others seize spatulas when their wives go back to work, or are tied down by nursing infants. Most say that barbecuing makes them feel macho, but that regularly manning the stove improves their home lives – and their intimate relationships with their wives.
John Donohue, a New Yorker editor and cartoonist, cooked long before parenthood – because he loved food and was always hungry. When his daughters came along – with the accompanying exhaustion, loss of discretionary time and funds, and household tensions – he "ducked into the kitchen ... and came out a conquering hero."
Noticing that he's part of a growing phenomenon, Donohue rounded up a full pantry of writers, chefs, and cooking dads to contribute to Man With a Pan, an entertaining stir-fry of essays, anecdotes, recipes and cookbook recommendations. Fathers, he notes, "now account for nearly a third of the time a family spends cooking. In 1965, that figure was only five percent."
Needless to say, things have not yet changed so drastically that a book about mothers who cook would be noteworthy. It should also be pointed out that quantifying gender divides in home cooking in terms of time expended rather than percentage of meals produced is potentially misleading. Could it be that men's culinary output is still disproportionately skewed to breakfasts, barbecues, weekends, and vacations? (My father, who considered reheating prepared food in a microwave to be cooking, had a single, signature, weekend-only dish: a scramble of bagels, eggs, ham and cheese we called Daddy's Special.)
In this era of Iron Chefs, how much male cooking time is swallowed by elaborate culinary stunts? "Sorry, fella, it doesn't count unless you are doing it every day," Mark Kurlansky writes in "Confessions of a Foodiephobiac."
---
Follow Stories Like This
Get the Monitor stories you care about delivered to your inbox.