Tolstoy and the Purple Chair: My Year of Magical Reading
How one woman used books to cope with her sister's death.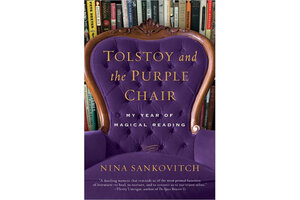 An avid reader isn't necessarily a deep writer. This may be the key to the profound limitations of Nina Sankovitch's Tolstoy and the Purple Chair: My Year of Magical Reading, an amateur memoir of loss pegged to her eldest sister's death. The book owes its subtitle to acclaimed journalist and novelist Joan Didion's own 2005 account of exquisite grief at the deaths of both her husband and daughter, in "The Year of Magical Thinking." But Sankovitch boasts none of Didion's brilliance – at least, not as an author.
Trained as an attorney, Sankovitch, 48, does her due diligence in this stolid recapping of the 12 months that she spent reading a book a day, as a salve for losing an adored sibling to cancer several years before. Every tome that she picks up is exhaustively detailed, along with any similarity that its heroine bears to her idealized late sister, Anne-Marie.
Not that Sankovitch isn't bright; she earned her J.D. at Harvard. But a lack of independent thought marks her narrative of the family life created in the US by her Catholic immigrant parents – an academic and a doctor from Belgium and Belarus, respectively – along with her parroting of their tales of suffering endured by European relatives during World War II, all without wonder at their conclusions.
---