I'm Feeling Lucky: The Confessions of Google Employee Number 59, by Douglas Edwards
What one early employee saw at the Google revolution.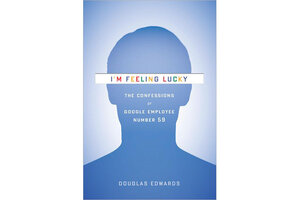 "When were we ever wrong?" Google cofounder Larry Page once asked Douglas Edwards, Google's online brand manager and its 59th employee hired.
Born in a rented garage at the height of the technology boom in September 1998, Google emerged at a moment when everything seemed to be right in Silicon Valley. The collapse of the dotcom bubble in March 2000, however, left many techies out of work, and worse, out of money. But Google marched boldly through this – and many subsequent – storms. Today the company occupies the rarefied strata of firms boasting multibillion-dollar profits. Was Page's audacious boast accurate? Was Google really never wrong?
Edwards has written I'm Feeling Lucky: The Confessions of Google Employee Number 59 about the six years (from 1999 to 2005) he spent working as a marketer for the company. Edwards had the dubious distinction of being one of the first nonengineers to crack into the playing roster of a company that continues to be driven by a technical mind-set. Far from being a computer programmer or software engineer, Edwards was hired because he understood brand management and public relations. Or at least, before coming to Google, he thought he did.
---