An African Affair
A gutsy journalist attempts to expose the corruption of the Nigerian government in the hot, sticky atmosphere of Lagos.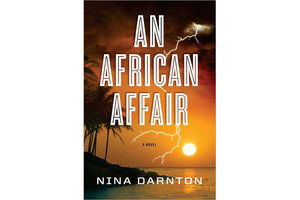 In the hot, sticky climate of Lagos, Nigeria, a simple task like going to sleep can be difficult for Lindsay Cameron. The suffocating night air is still as thoughts of drug smuggling, murder, lies and cover-ups swirl in Lindsay's mind. She believes that her responsibility as a journalist is to expose the deep corruption of the Nigerian government. But is it worth risking her life, paying bribes, shaking off a threat from the Nigerian president, and getting kidnapped? Without hesitation, she answers: "Yes."
Nina Darnton's An African Affair offers an insider's view of life as a foreign correspondent in Nigeria in the mid-1990's. (Darnton spent five years in Nigeria working as a journalist and plans to make this book the first in a series of thrillers drawing on her experiences there.) Living without the security of e-mail, a landline phone, or sometimes even electricity, Lindsay must depend on the few relationships she has in Lagos to keep her sane. While it seems as if the adrenaline of her job could keep her going forever, love interest James Duncan provides a relief from the high-intensity activity of story-chasing.
---