The Missing of the Somme
British novelist and journalist Geoff Dyer struggles to find something new to say about World War I.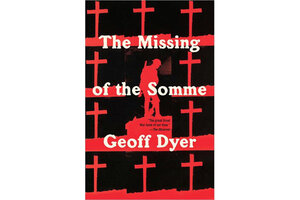 Want to write a book about the Great War? First, read Ernest Hemingway's "A Farewell to Arms." Then, check out Paul Fussell's "The Great War and Modern Memory." Next, consult Erich Remarque's "All Quiet on the Western Front" and, while you're at it, put the 1930 film version – an Oscar-winning masterpiece – in your Netflix queue. Then, ask yourself: Do I really want to write a book about the Great War?
"War may be horrible, but that should not distract us from the acknowledging what a horrible cliché this has become," Geoff Dyer writes in The Missing of the Somme, a minor meditation on World War I that never manages to be as major as the works on whose shoulders it stands. "The phrase 'horror of war' has become so automatic a conjunction that it conveys none of the horror it is meant to express."
Dyer's put himself in quite a bind. Almost a century after the assassination of an Austrian archduke by a Serbian nationalist sparked an interminable conflict that killed millions, "The Missing of the Somme" tries to say something new about the Great War while acknowledging that there may be nothing new to say. Halfheartedly trying to dodge this paralyzing paradox, Dyer offers a miniature family history – his grandfather served as a driver at the Somme, the 1916 battle in Northern France often called the bloodiest in human history – that segues awkwardly into a drunken tour of WWI memorials. In the end, the author forsakes memoir, travelogue, and art history to settle on a less promising method: critical theory.
---