The Submission
Can a Muslim architect design a 9/11 memorial?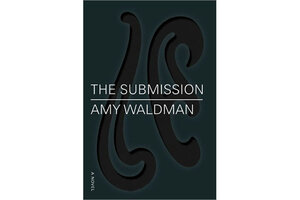 By Tess Taylor for The Barnes & Noble Review
We've arrived at the eve of the 10th anniversary of September 11 – a moment that, just like Indian summer, forces us into remembrance: inevitable reckoning of who we were then, and what's become of us since. I was a young architecture reporter, one suddenly faced, not with new plans for buildings or parks, but with watching New York City's iconic skyline ravaged. In the tragedy's blurry aftermath, I attended scores of planning meetings making frenzied notes about the early debates about rebuilding and memorial. The talk then – a strange mixture of ambition, bureaucracy, and pain – seemed to be about more than architecture. It was also about how landmarks and stories intersect, how space mediates grief, and how wounded cities – and wounded people – try to heal.
Debut novelist Amy Waldman steps gracefully into this moment with her novel The Submission. The former South Asia correspondent for the New York Times, Waldman boldly re-imagines an eerily realistic alternate history of the years after 9/11. It's risky to add another tome to the stack of 9/11 books: Our landmark tragedy now has no shortage of novelistic tributes. This one, told from the vantage of an architectural competition for the memorial, refracts with uncanny insight the public ambitions and private pain that have shaped us, showing us ourselves with rueful grace. The lights go up on a scene nine years ago, in a negotiation room where a startlingly familiar "memorial committee" is grinding away towards a vote on an open competition, one comprised of anonymous submissions. Claire, who knows herself to be the committee's token widow – rich, cultured, but somehow the face of "victims' families" – is making an impassioned argument for a plan that includes a garden. She sees the green and symmetrical space as a place where "the widows, their children, anyone – can stumble on joy."
---