American Dreamers: How the Left Changed a Nation
Michael Kazin delivers an entertaining history of America's "left" – those who dream of "a radically egalitarian transformation of society."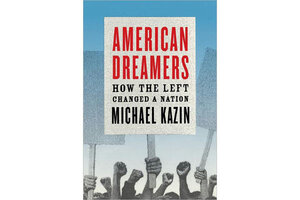 Michael Kazin is a history professor at Georgetown University. His most recent book before American Dreamers is a biography of William Jennings Bryan, a detailed examination of a fascinating individual – in other words, something focused and concrete. "American Dreamers" comes out at the opposite end of the scholarly pipeline – theoretical and scattered. After all, it is mighty difficult to even define an entity as amorphous as "the Left," much less to determine how such an entity "changed" anything – particularly a sprawling, diverse nation. Yet, despite the challenges, Kazin has produced an interesting book.
Here is how Kazin defines "the left" for purposes of his stab at intellectual history: the "social movement, or congeries of mutually sympathetic movements, that are dedicated to a radically egalitarian transformation of society." Probably the key word is "egalitarian." The folks studied by Kazin, both already famous and mostly obscure, have sought the leveling of differences between the wealthy and the poor, men and women, Caucasians and African Americans, corporate chief executives and assembly line laborers, school district chancellors and classroom teachers – the list of dichotomies could go on and on.
For readers of intellectual history wondering how a certain set of political viewpoints became known as "leftist" or "liberal" and those believing something vastly different became known as "the right," or "conservative," Kazin settles some of the mystery. He says the word "left" entered the French language first, "coined in 1789 to designate where the radical faction sat in the French National Assembly." He says "left" entered common usage in the United States during the 1930s."
---
Follow Stories Like This
Get the Monitor stories you care about delivered to your inbox.