Grand Pursuit: The Story of Economic Genius
How much should the government intervene in the economy of a free society? Sylvia Nasar traces a century of debate.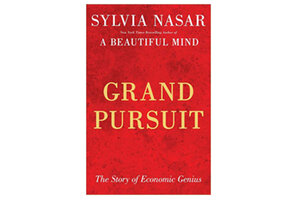 Unlike mathematicians, economists don't excel at solving problems.
Some open questions: Did the New Deal work, or did we need World War II to escape the Great Depression? Did the Soviet Union's collapse prove Marx wrong? Should we return to the gold standard? Post-Bear Stearns, does America need stimulus or austerity? If free markets are superior to command economies, why is the US teetering at the brink of a double-dip recession and the Eurozone in crisis?
Economics: It can't be a dismal science if it's not even science.
Why don't economists know more? Sylvia Nasar's Grand Pursuit: The Story of Economic Genius sidesteps this elephant in the Fed's Board Room by, well, focusing on what they do know. "Nobody debates any longer whether we should or shouldn't control our economic circumstances, only how," Nasar writes. "Rather than a history of economic thought, the book in your hands is the story of an idea that was born in the golden age before World War I."
---
Follow Stories Like This
Get the Monitor stories you care about delivered to your inbox.