The End: The Defiance and Destruction of Hitler's Germany, 1944-1945
How Hitler's cult of personality made him almost impossible to dislodge from power.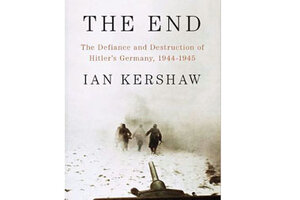 The idea of "no surrender" has plenty of appeal when the enemy is at the door. Just ask Winston Churchill, who put it this way in words for the ages: "We shall fight on the beaches, we shall fight on the landing grounds, we shall fight in the fields and in the streets, we shall fight in the hills; we shall never surrender…"
The British people, for all their suffering, never actually faced a choice about whether to keep fighting when all was lost. The Germans did. Their choice in the waning months of World War II was to keep fighting and fighting and fighting, a disastrous decision.
History buffs don't hear much about these last weeks in Germany outside of the final few hours in the Nazi bunker in Berlin. But now, British historian Ian Kershaw gives them their due in a new book about the decisions behind a disaster.
The End: The Defiance and Destruction of Hitler's German, 1944-1945 is too packed with detail to provide much drama or suspense. But it does provide lessons in the costs paid by those who swear blind allegiance to everything but the idea that there's honor in giving up and moving on.
We can look throughout history and see examples of wars that ended with surrender before despair. In the Civil War, the South didn't force the North to win by going house to house. Germany and its allies capitulated in World War I without requiring women and children to fight invaders in the streets of their cities.
---