Hemingway's Boat
From global acclaim to suicide: Paul Hendrickson examines the three final decades of Ernest Hemingway.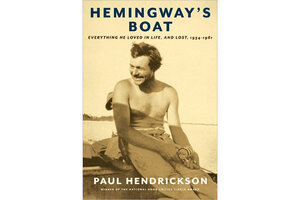 By 1934, when Ernest Hemingway turned 35 years old, he had become perhaps the most celebrated living writer in the English language – and perhaps in any language. That year, Hemingway purchased a fishing boat that he would dock in Key West, Florida, or in Cuba or less permanent places where he might be able to reel in the big ones. He named the boat Pilar. Hemingway treasured that boat until the day he shot himself at his Idaho home during 1961. A lot of his outer life and inner life occurred on or near Pilar, which served as a place to write, read, sleep, copulate, and entertain friends as well as a fishing vessel.
After Hemingway's death, Paul Hendrickson, two generations younger, began earning his reputation as a superb newspaper feature writer, magazine freelancer, and daring nonfiction book author. In 1980, by chance, Hendrickson met a surviving Hemingway brother. In 1987, Hendrickson wrote a feature about Hemingway's three surviving sons, published by the Washington Post, where Hendrickson earned a paycheck. Some sort of Hemingway book began to take shape in Hendrickson's mind. But not a traditional biography. Readers had plenty to choose from already.
Between the preliminary thinking about a Hemingway book and the appearance of Hemingway's Boat this month, Hendrickson published a memoir about his religious training ("Seminary: A Search"), and three books with people other than himself at the center, although none could be categorized as a traditional biography ("The Living and the Dead: Robert McNamara and Five Lives of a Lost War"; "Looking for the Light: The Hidden Life and Art of Marion Post Wolcott"; and "Sons of Mississippi: A Story of Race and Its Legacy").
---