The Quest: Energy, Security, and the Remaking of the Modern World
Pulitzer Prize-winner Daniel Yergin demonstrates how the global quest for energy will reshape our world.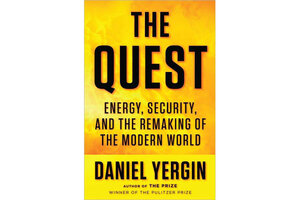 What does an energy transition look like?
Energy historians and policy analysts have struggled with this question since the 1970s. Will we know when we are in a transition away from fossil fuels?
If a transition goes on for decades, what will be the final tipping point? Will it be a catastrophic event, such as the Macondo Blowout and Oil Spill, Hurricane Katrina, or the Fukushima nuclear problems in Japan? Maybe per-gallon gasoline prices rising above $5? Possibly a diplomatic conflict that escalates with nations going to war?
Or might that final push will come from a book? Not just any book, mind you. It would have to be a book by a particular author – not just any writer.
Daniel Yergin, author of the Pulitzer-Prize winning "The Prize" (subsequently made into a PBS documentary series), may be that writer and The Quest – his latest work which presents readers with a portrait of our energy transition – may be that book. Yergin, Chairman of Cambridge Energy Associates, appears regularly on television (CNBC) and radio (NPR) as the leading analyst of the world's energy markets – particularly petroleum. He personifies the emergence of the energy sector as a leading engine of the world economy.
---