Fenway 1912
Glenn Stout paints a vivid portrait of a moment in the history of America's favorite pastime.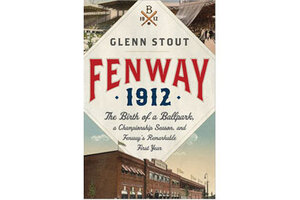 By the turn of the 20th century, Americans had become enthralled with their national pastime, and entrepreneurial owners scrambled to build facilities to appease – and cash in on – the baseball-hungry masses. Boston's Fenway Park, hastily built over the 1911-1912 winter, was part of a nationwide shift to larger, concrete and steel ballparks, a more permanent alternative to the wooden stadiums of years past – though no one could have ever predicted Fenway's longevity.
With the 100th anniversary of Fenway approaching, Glenn Stout, the author of "Red Sox Century," pays tribute to "America's Most Beloved Ballpark" with Fenway 1912, detailing the park's inaugural season and the unforgettable eight-game World Series between the Red Sox and New York Giants.
In Fenway 1912, the ballpark itself is a main character, and Stout devotes the first part of his book to its birth. "It is a living place," he writes, "one that has changed, and will continue to change, across eras, evolving and shaping the collective memory of generations." Many of the beloved quirks of today's version of Fenway – the manual scoreboard, the park's Dartmouth-green paint, the center-field triangle – didn't exist in 1912. Instead, "Duffy's Cliff," a sloping hill in left field, proved exasperating for opposing left-fielders, while the dugouts routinely flooded during the wet spring of 1912. The park's effect on the outcome of games is a recurrent theme, epitomized by the pivotal game five of the World Series, when "Fenway Park had never been more friendly to the Boston cause."
---