Instant City: Life and Death in Karachi
NPR host Steve Inskeep writes about Karachi – a sprawling, striving, fractured city on the rise.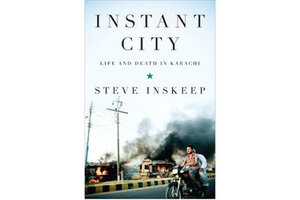 One of the finest passages in Steve Inskeep's informative, ambitious, chaotic, and sometimes glorious Instant City, which relates the epic story of Karachi, is a bravura evocation of the momentousness of Pakistan's birth. "Cataclysmic events seemed to tilt the surface of the earth," writes Inskeep, "raising the angle until human beings tumbled downhill into the city at the bottom of the slope. The partition of India was the greatest convulsion of all, tilting the ground on which millions of Indians stood. And Muslims began tumbling downward into Karachi's reluctant embrace."
That was in 1947. Overnight, Karachi's population of approximately 400,000 doubled – hence the title of Inskeep's book: "Instant City."
But Inskeep, a co-host of National Public Radio's Morning Edition who has reported extensively from Pakistan, explains that there are other factors behind Karachi's rapid rise. (Today its population is estimated at over 13 million). An instant city, which the author defines as "a metropolitan area that's grown since 1945 at a substantially higher rate than the population of the country to which it belongs," also boasts a high birth rate and extensive sprawl. Moreover, its supply of (usually rural) migrants is continuous. Karachi, which served as Pakistan's capital until Islamabad was constructed for that purpose in the 1960s, fits the bill in every way.
---