America the Vulnerable
America has become the fattest cyber attack target on the planet, writes Joel Brenner in his disturbing new book.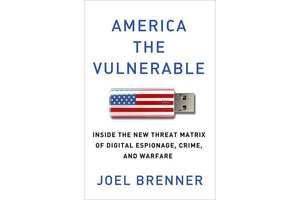 Top-secret fighter jet designs filched by foreign cyber spies. Oil companies' vital exploration data siphoned from corporate networks. A new, highly potent form of malicious software that can wreck industrial machinery like power generators.
Whether it's cyber spying, identity theft, or cyber sabotage, the drum beat of computer threats has become standard fare in articles, books, and movies. So much so, Americans can barely be bothered to peer up from their iPhones (really hand-held mobile computers) to register shock or astonishment at the latest travesty.
Thousands of stolen secret State Department documents dumped via Wikileaks onto the internet? Google's source code in the hands of Chinese hackers? Twenty terabytes of information – enough to fill a line of moving vans miles long if the data were on paper – stolen by cyber spies from Pentagon networks?
Just another day at the office. And yet we should be paying attention. America has, in its rise to global internet-connected preeminence, become the fattest cyber attack target on the planet with government and corporate networks alike as porous as Swiss cheese to advanced attackers, writes Joel Brenner in his disturbing new book American the Vulnerable: Inside the New Threat Matrix of Digital Espionage, Crime and Warfare.
What he describes is a nation that has, unwittingly, created for itself a digital "glass house" in which virtually all data belonging to individuals, companies, and government can be gotten at one way or the other – by hook or crook, friend or foe.
"The United States cannot defend the electronic networks that control our energy supply, keep aircraft from colliding in midair, clear financial transactions, or make it possible for the president to communicate with his cabinet secretaries," he writes. "We cannot permit this situation to continue and remain in control of our destiny."
---