Tolstoy: A Russian Life
Biographer Rosamund Bartlett shies away from examining Tolstoy as a writer – but has some interesting details to offer about Tolstoy the man.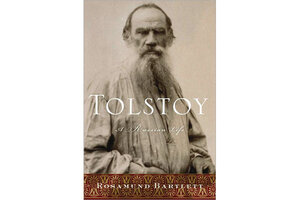 A biographer of Lev Tolstoy (1828-1910) faces more questions than a novelist: Can he or she recount Tolstoy's early years – so well described in his novella "Childhood" – in the same detail? Is it necessary to narrate the last year of his life, already so well documented by himself, his family, his friends, and onlookers? Is his difficult marriage – so fully covered by the testimony of the couple and their children and their friends and dramatized in various ways in his fiction – able to be presented in all its partisan confusion? Finally, given that Tolstoy evokes his own life and the lives of his fictional creations so vividly and deeply, how can a mere biographer compete?
"From the outset, Tolstoy conducted his self-analysis on the page," notes Rosamund Bartlett in Tolstoy: A Russian Life. Bartlett, a Russophile Brit, Chekhov expert, and translator, is referring here to Tolstoy's diaries, which he wrote in fits and starts with years-long gaps, but she really should be referring to his fiction, where Tolstoy lays himself out in mesmerizing super-consciousness: Tolstoy is never greater or bigger than when he's creating.
His art usually transcended his tremendous and sometimes bullying intellect; critics and philosophers, however, love to show how they've out-thunk Tolstoy and show up what they believe are his mistaken ideas and his character flaws, but nobody has ever out-created him or dramatized a deeper consciousness. It's easy to condescend to Tolstoy if you don't take him at full-power, which is as an artist, the creator of the most extraordinary fiction in literature.
There have been plenty of good biographies of Tolstoy, though not for a while. Some are by people who knew him (Aylmer Maude and Tolstoy's youngest daughter Alexandra) and others by people who didn't (Ernest Simmons and Viktor Shklovsky). Yet they continually give us the sense that Tolstoy is the best presenter of Tolstoy. They trust that his own words and actions reveal him. The biographers who want to interpret and subsume our perceptions of him, including Henri Troyat and the abominable A. N. Wilson, have a lot of gall.
---